Using Class Rotation
Class rotation allows teachers to skip the Student Portal screen and lets the program randomly select students for sessions. This feature works best for classrooms where students take turns running sessions during class.
Turning On Class Rotation
To turn on class rotation:
Log in to Waterford Manager
Click on the Students tab.
In the right dropdown, select your class.
Click the More button above the Student List.
Click Rotation.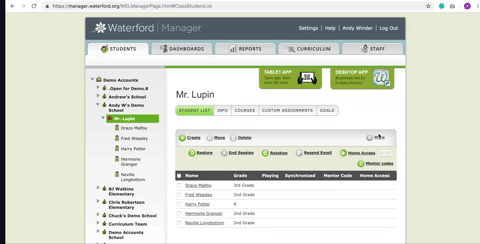 If the button is grey, class rotation has been turned off. Talk to your school or district administrator to discuss turning this feature on.
This will automatically launch a Waterford session for one student at a time in your class. When a session ends, the program will select the next student and display their picture.
Skipping Absent Students in Class Rotation
If a student is absent, click Not Me to switch to the next student.
If Not Me is selected several times in one day for the same student, the feature will assume student is absent and stop including them in its rotation. The student will be included the next day.
---
---