Resetting Benchmarks to Allow Assessment Retakes on the Student, Classroom, School, or District Level
If needed, you can reset a Waterford benchmark so students can retake the assessment for an individual, classroom, school, or district level. You can also use this feature to reset tests for students whose benchmark has expired.
To reset a benchmark and allow student(s) to retake their scheduled assessment:
Log in to your Waterford account and visit the Dashboard tab.
Use the View filter to select the student, classroom, school, or district for which you would like to reset benchmark windows.
Select Assessments from the Curriculum filter.
If needed, use the Current Benchmark Status filter to search for students whose benchmarks have expired.
Scroll to the student, classroom, school, or district of your choice to reset benchmarks and select the blue menu bar to the right of the name. 
Select the red Reset Current Benchmark button. A pop-up window will appear to remind you that if selected, previous results for this benchmark window will disappear.
Select Yes, Reset to confirm your choice.
The benchmark for the student(s) will reset within twenty-four hours, allowing them to retake the assessment the next day.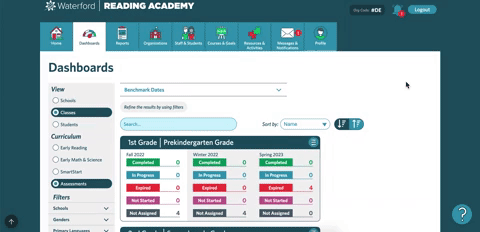 Once reset, the previous results for an assessment taken within the date range for that benchmark will be erased for the student(s) selected. This action cannot be undone.
---
---