Release Notes 10.4.2023
Waterford.org will release an automatic software update on October 4, 2023. See the list below for details.
If you have any questions or feedback, visit the Help Center for more information.
Playlists Can Now Be Used in Group Settings with Waterford Reading Academy
Affects: Waterford Reading Academy
Enjoy the same group playlist functionality as in Waterford Early Learning! Educators can now use playlists in a group setting, allowing them to pause, skip, and replay specific activities as needed.
Introducing Press-and-Hold for Activity Choice Selection 
Affects: Waterford Reading Academy, Waterford Upstart, Waterford Mentor
For improved touchscreen compatibility, users will now interact with activities that previously required a mouse hover to make selection with a Press and Hold icon. Before a child encounters these activities, they will receive a lesson that teaches them how to use the Press and Hold icon to ensure proficiency and reduce confusion.
This new icon will appear on desktop devices as a white glove to indicate that the child needs to make a selection. Additionally, on all devices, an animated glove icon will appear in the activity's Navigation Bar to let students know the activity will require choice selection.
Children will need to tap with their finger or click with their mouse (depending on whether they are using a desktop or touchscreen device) and hold down on the answer choice to make a selection. When a circle appears over their selection, children will know that their selection has been confirmed.
The following activities are the first to feature the Press and Hold icon:
Vocabulary Assessment
Change One Sound
Blending Post-Assessment 1
Blend Onset/Rime Sounds Instruction (Puzzle Pieces)
Blend Onset/Rime Instruction 2: Set 1 (Puzzle Pieces)
Find an Answer
Name That Sound
Name That Letter
Name That Letter Sound
New Pre-Reading Certificate Videos to Celebrate Milestones
Affects: Waterford Reading Academy, Waterford Upstart, Waterford Mentor
Motivate learners with 27 new Pre-Reading certificate videos featuring Waterford's own Rusty and Rosy! After achieving Pre-Reading milestones, students will unlock a video celebrating their effort. Celebrating efforts rather than only successes has been shown in research to promote intrinsic motivation to learn.
At the moment, these certificates are video-only and are not printable.
Family and Educator Resources for Five Traditional Tales
Affects: Waterford Reading Academy, Waterford Upstart, Waterford Mentor
Guide home and classroom reading lessons with video and activity resources! Families and educators can access narrated videos, Class Activity sheets, and Reading Together home resources, for the following traditional tales:
The Gingerbread Man
Goldilocks
The Three Little Pigs
The Ugly Duckling
The Little Red Hen
Families can access home learning resources for all five tales in English and Spanish. The narrated videos are also available as a YouTube playlist, with additional resources linked in the video description.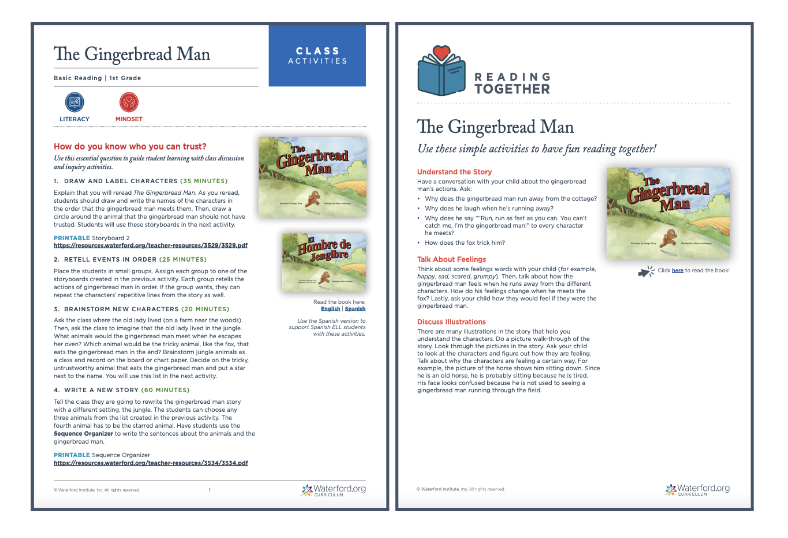 ---
---