Removing Associations
The Remove Associations tool removes class and student associations to reflect new teacher and student assignments, and it releases licenses from non-returning students at the beginning or end of the school year.
To remove all associations:
Log in to your account and visit the Organizations tab.
Click Remove Associations. A pop-up window will appear.
Type REMOVE in the required form and click the red Remove button.
Your request will be placed in a queue for processing. You can cancel at any time until we have begun processing your request. Once finished, you can add new school and class information manually or import the information.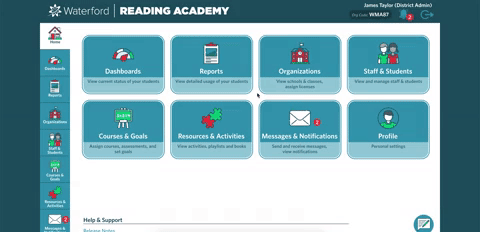 We recommend resetting placement exams before removing associations to avoid complications. To learn how to reset placement exams,
click here
.
If you would like to cancel your request:
Check for an In Queue marker to the right of the Remove Associations button. If it is still there, you can cancel your request.
Click on the In Queue marker. A pop-up window will appear.
Select Yes, Cancel to cancel your request.
Be mindful about beginning the Remove Associations process, as once it has been removed from the queue and started, it cannot be undone.
---
---