6.19.2019 Release Notes
Waterford.org released an automatic software update on June 19th, 2019. See the list below for update details. If you have any questions or feedback, our Support Team is always happy to help.
Affects: Waterford Early Learning, Waterford Early Learning: SmartStart
Classroom Presentation Mode Playlist Changes
We added new playlists and activities to Classroom Presentation Mode (formerly Classroom Advantage), bringing the total number of pre-built playlists to over 1,600. While Classroom Presentation Mode previously only offered reading playlists and activities, it now includes playlists and activities for math and science as well.
New Reading Activities in Classroom Presentation Mode
Affects: Waterford Early Learning, Waterford Early Learning: SmartStart
We added 58 new reading activities that focus on rhyming, syllables, blending, and other skills. We also reorganized several Phonological Awareness and Phonics activities to better align with Waterford's Five Instructional Strands.
Additionally, we moved three Phonological Awareness activities from Pre-Reading to Basic Reading to better fit students' learning needs.
Updated Toolbar Icons
Affects: Waterford Early Learning, Waterford Early Learning: SmartStart
We updated the Student Navigation toolbar to make the buttons clearer and more user-friendly. This update is automatic and will be available for students the next time they log in to the program.
Major Waterford Mentor App Updates
Affects: Waterford Mentor App
We made significant design changes to the Waterford Mentor app to improve usability and implement feedback we received from early-access users.
We have also added a Messages tab in the app where parents receive updates and messages from Waterford. There are three types of messages:
The first type provides information about whether the student is on track
The second type gives parents an offline activity they can do with their child based on the last objective the student mastered
The third type provides parents with an offline activity that will help develop the student's social and emotional awareness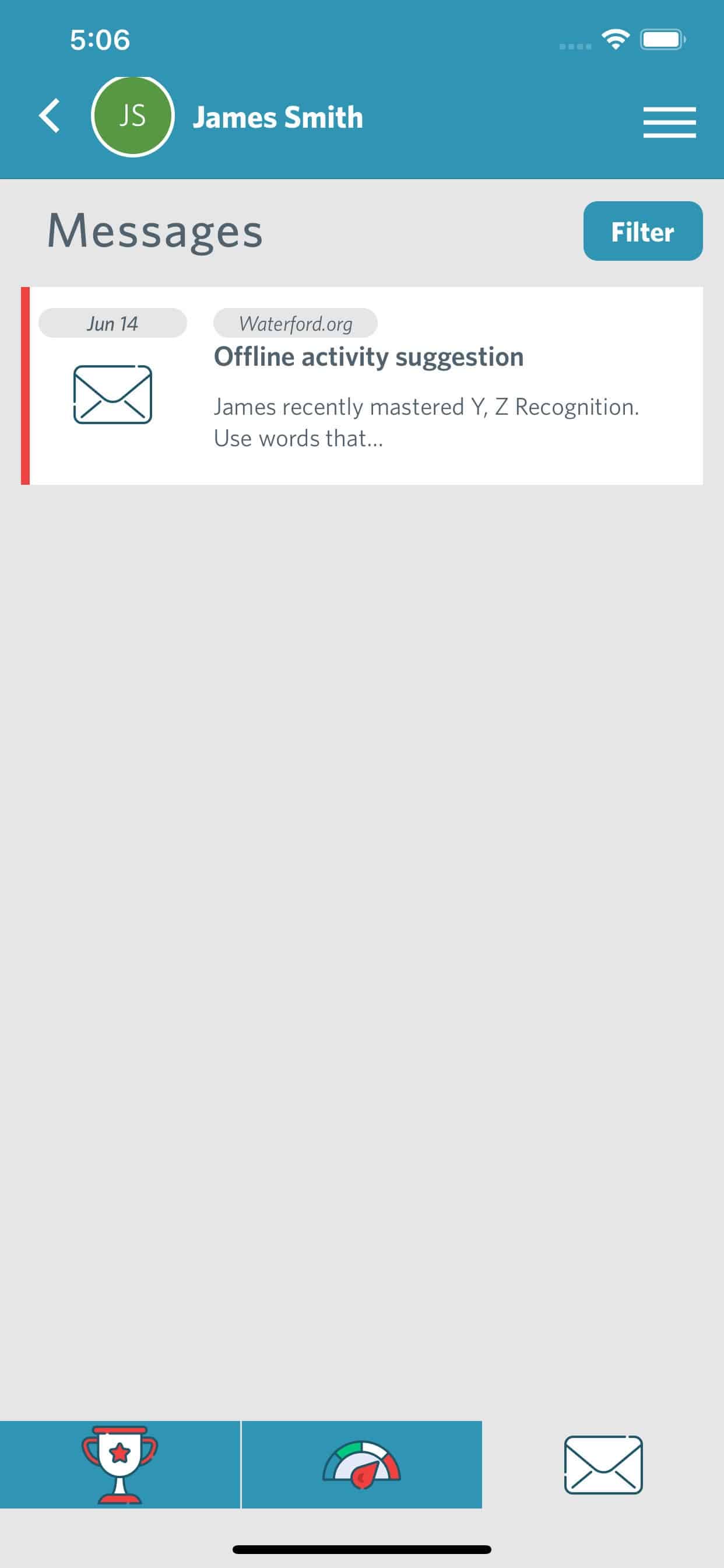 Because this update is so large, users will need to uninstall the app from their phones and reinstall it from the app store.
Reinstalling the Mentor app will ensure that the device is ready for the upcoming school year and that users have access to the latest version. If you have further questions about what this update involves and how to re-install the app on your phone, contact Waterford Support.
---
---