Release Notes 7.01.2020
Waterford.org released an automatic software update on July 1, 2020. See the list below for update details. If you have any questions or feedback, our Support Team is always happy to help.
Two New Tabs in Waterford Reading Academy: Staff and Students, and Courses and Goals
Affects: Waterford Reading Academy
We added two new tabs to the Waterford Reading Academy portal:
Staff and Students (Students is accessible for teachers only)
Courses and Goals
In the Staff and Students tab, administrators can add, import, edit, and delete schools or classes, as well as student or staff member accounts. Teachers can view and edit student information through the Students tab.
These features were previously available in Waterford Manager, which will now be view-only for Waterford Reading Academy users. Waterford Early Learning users will continue to use Waterford Manager as usual.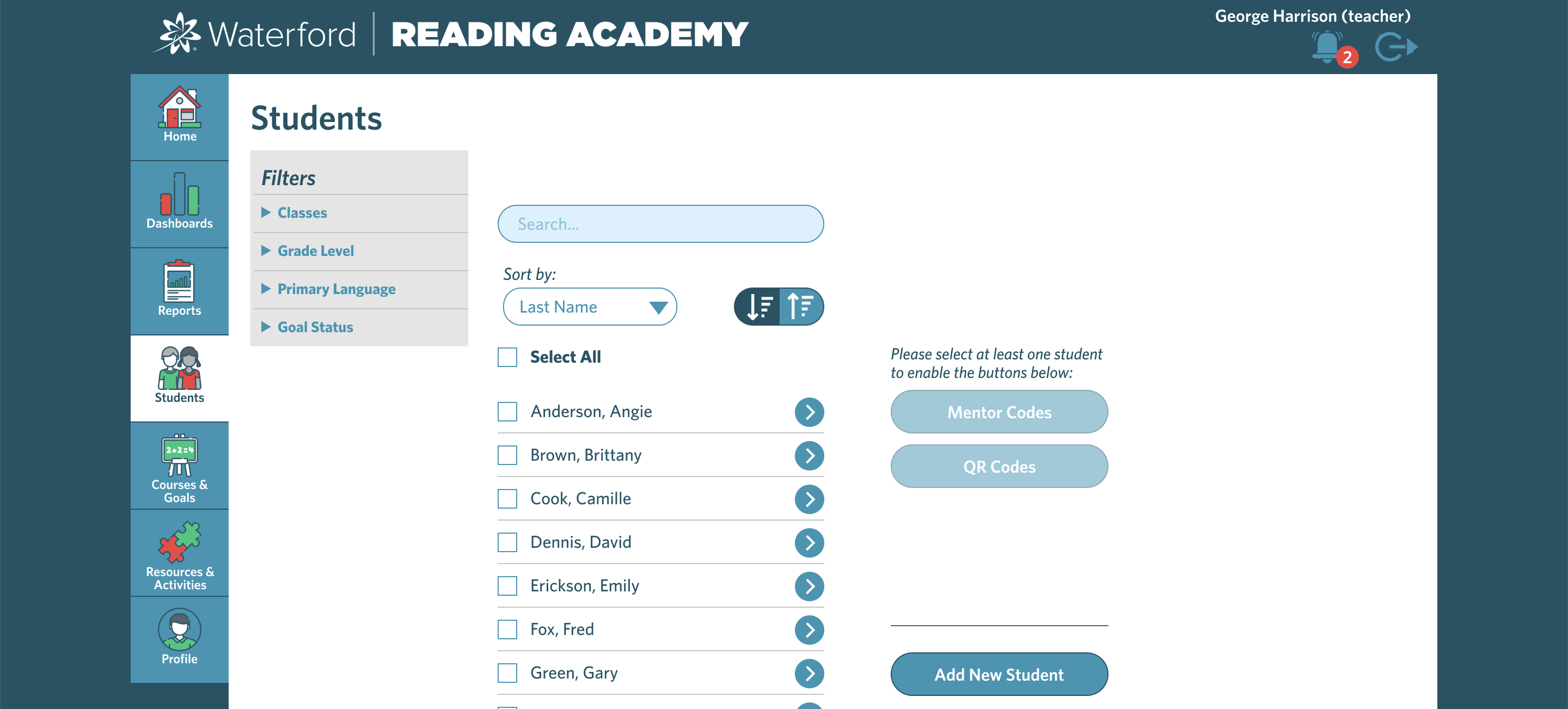 In the Courses and Goals tab, teachers and administrators can adjust session time, goals per minute, reading level, and end goals for individual students or a whole class for the following courses:
Waterford SmartStart
Waterford Early Reading
Waterford Math & Science
Both of these tabs will be turned on incrementally over the summer for Waterford Reading Academy users. If you have further questions about these new features, contact Waterford Support.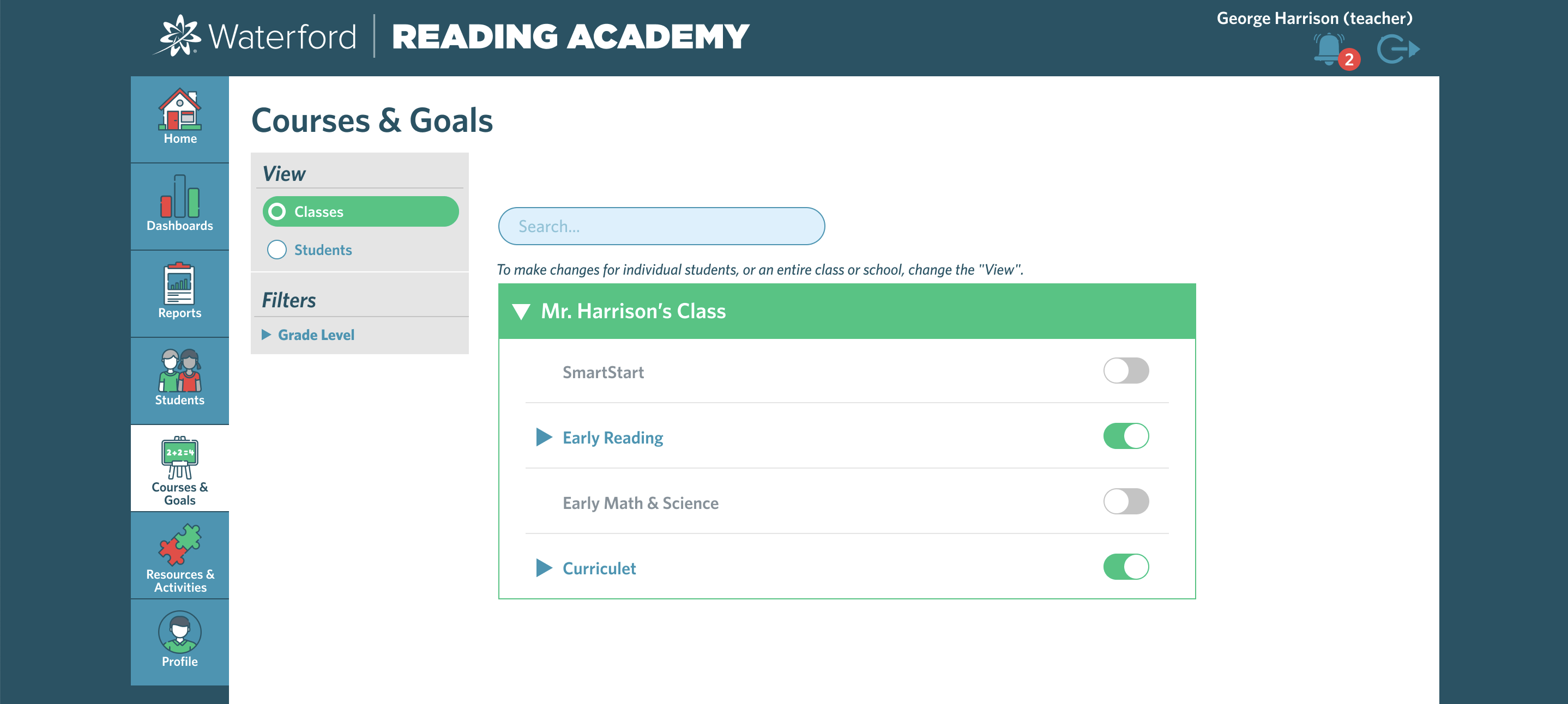 We have also updated the Waterford Reading Academy login portal with a more streamlined look.
Added Social-Emotional Learning Messages for Grades 3-6 in Waterford Mentor
Affects: Waterford Mentor
Alongside our PreK social-emotional learning messages, we will now send out "Friday Relationship Tips" to the families of students in grades 3-6 in Waterford Mentor. These weekly tips are designed to help families nurture their child's social-emotional development from home.
In the coming months, we will also begin sending learning tips to the families of grades 3-6 students on Mondays and Wednesdays. For updates, check upcoming release notes every six weeks.
Update: Password Re-Syncing for Waterford Reading Academy Users
Affects: Waterford Reading Academy
We will be re-syncing all passwords in Waterford Reading Academy. To re-sync passwords in your organization, district administrators can either update individual  accounts or contact support to do a bulk update of your users.
Student passwords only need to be four characters long. Staff passwords, however, will need to be eight characters long and include one uppercase letter and one special character.
25 New Indigenous Literature Curriculets Now Available
Affects: Curriculet, Waterford Reading Academy
We added 25 new curriculet reading guides for indigenous children's literature for grade levels 3–6. You can access the guides and/or rent a digital copy of these books in your Waterford Reading Academy or Curriculet library.
Waterford's 5 Instructional Strands Videos Now Available in Spanish
Affects: Waterford Early Learning, Waterford Reading Academy
We translated our Waterford's 5 Instructional Strands videos into Spanish, which you can access through Waterford Reading Academy. This resource can help families better understand the core reading skills their child will learn through our curriculum.
New Learning Activities Added to Waterford Reading Academy
Affects: Waterford Reading Academy
We have updated the Waterford Reading Academy curriculum with 97 new or updated learning activities, including:
91 updated Vocabulary activities
5 new Letter Recognition activities
Updated functionality for name recognition activities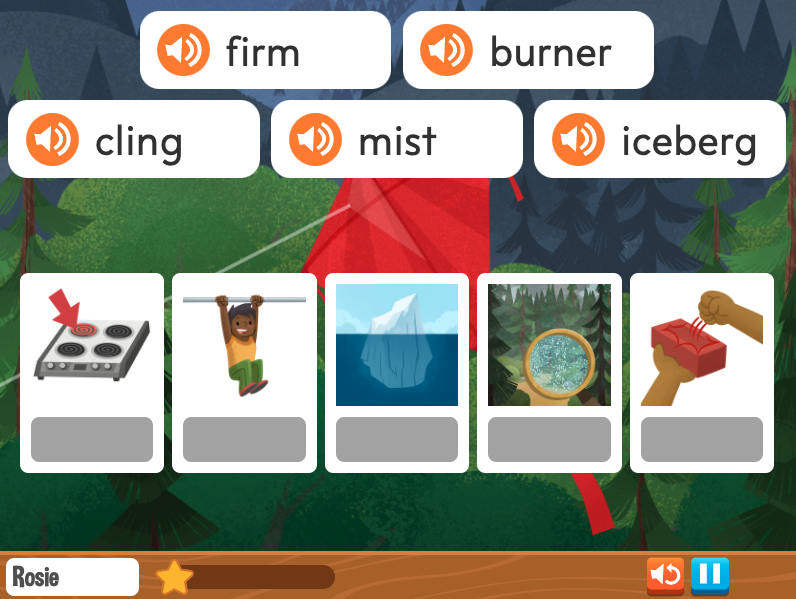 ---
---