Assigning a Course to Students on the District, School, Classroom, or Student Level
To assign a course to students within a certain grade on the district, school, classroom, or student level:
Log in to Waterford Reading Academy and visit the Courses and Goals tab.
Scroll or filter to the district, school, classroom, or student you would like to assign/enroll in a course. If you are assigning courses to a district or school, select Goals & Settings and choose the grade whose course information you would like to adjust.
Toggle on the course you would like to assign.
In order to enroll students in a course, each student must have a valid license to complete the process. If you receive an error, it is likely due to the unavailability of licenses. Learn how to view your licensing information here.
Select Save to confirm your new assignments.
These students will see the course available the next time they log in.
To unassign a course later on, you can toggle the course button off.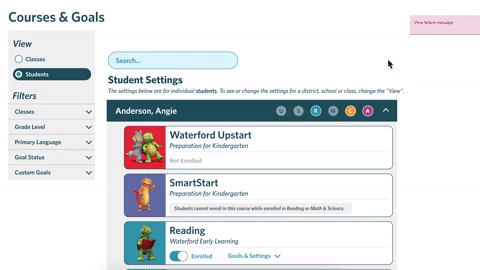 ---
---